 LAZONE.ID - Marshmello rencananya tampil di DWP 2017 mendatang.
Indonesia sepertinya punya tempat tersendiri buat DJ Marshmello. Buktinya, Marshmello ingat dengan hari kelahiran Indonesia.

Tepat 17 Agustus lalu, Marshmello sempat mengucapkan selamat kepada Indonesia. Hal itu dilakukan lewat akun Twitter resminya.

Marshmello memposting pose dengan motor dengan background pemandangan Indonesia. Ia mengucapkan selamat dengan caranya sendiri untuk para fansnya di Tanah Air.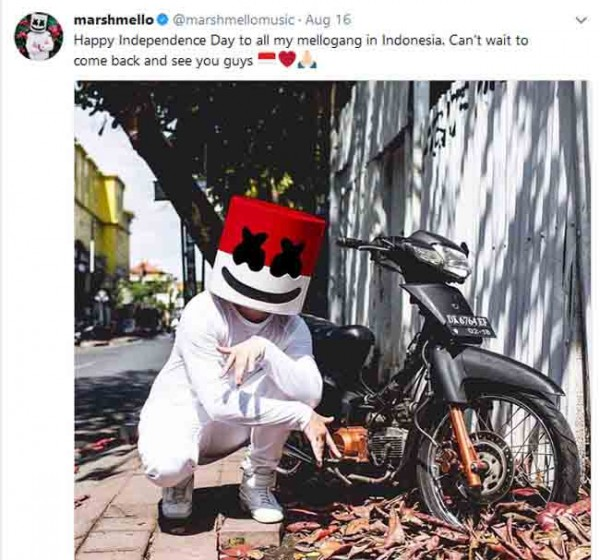 "Happy Independence Day to all my mellogang in Indonesia. Can't wait to come back and see you guys," kicau akun resmi dari Marshmello.

Marshmello memang beberapa kali tampil di Indonesia. Dan, rencananya ia bakal balik ke Tanah Air tahun ini.

Nama Marshmello masuk dalam line up sementara dari Djakarta Warehouse Project 2017. DWP 2017 rencananya digelar pada 15 dan 16 Desember mendatang di JIExpo Kemayoran.