 LAZONE.ID - Hayley berkicau bahwa dirinya masih hidup.
Beberapa hari ini, netizen dunia dibuat heboh dengan sebuah hoax mengenai vokalis Paramore, Hayley Williams. Hayley disebutkan telah meninggal dunia.

Jejaring media sosial Twitter pun sempat heboh dengan hoax tersebut. Suasana semakin rumit saat nggak ada konfirmasi resmi dari pihak Hayley.

Ucapan bela sungkawa pun membanjiri sosial media. Setiap ucapan itu pun nampak langsung me-mention Hayley.

Hoax tersebut pun akhirnya sampai ke kuping Hayley. Lewat kicauan-nya, Hayley mengkonfirmasa bahwa ia masih hidup.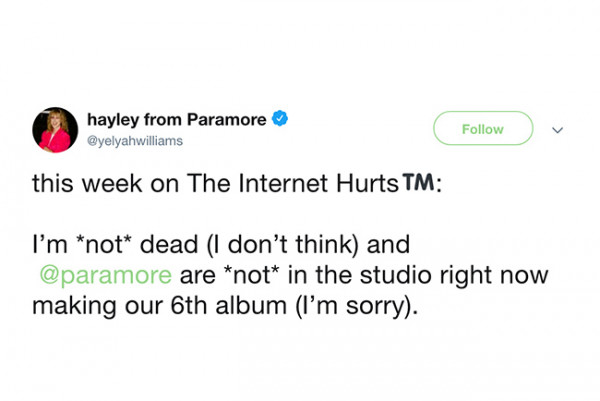 Sayangnya, Hayley nggak seketika bawa kabar bahagia soal hoax itu. Ia juga menegaskan bahwa Paramore sampai saat ini masih belum rekaman album baru.

"I'm *not* dead (I don't think) and @paramore are *not* in the studio right now making our 6th album (I'm sorry)," kicau akun Hayley.